Ok, I need to work on my titles... I'm starting to sound more and more like my dad every day... (love ya dad) anyway... Mary is in the computer room working on an online class thing for work that she has to have done by tomorrow, so I am out in the living room on the laptop watching Dave Letterman and being bored.




I suppose i should go to bed, but I'm really not tired. I'm also not looking forward to my two full days of teacher meetings before school starts on Monday.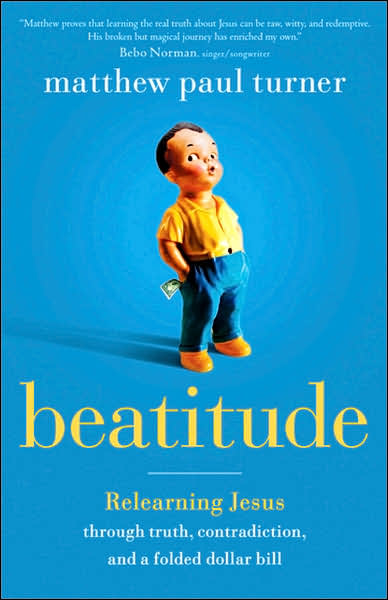 Need something to read? There's a book out by a guy named Matthew Paul Turner called
Beatitude
. Mary and I started reading it together a couple weekends ago when we went away to the mountains of western Maryland. It's really easy to read and really gets you thinking.
The first chapter is on peace and draws on the beatitudes as laid out in Matthew 5. Jesus says "Blessed are the peacemakers." Have you ever noticed that our lives seem to have way more conflict than peace in them? If not, turn on the news. Or go to DC and witness a "peace" rally first-hand. From what I've heard, they're not always so peaceful. So is this the kind of peace that Jesus is telling us to make?
Before you answer that question let me tell you this. Many times in the New Testament, the word that is translated "peace" is synonymous with a word that is also translated "wholeness." Mary's going to bed so I'm going to cut this short, but think about this. Some of the most memorable things that Jesus did while on earth were peacemaking things. He cast demons out of people, He calmed the seas, He healed broken bodies and broken hearts. Think about the woman who poured perfume on Jesus' feet or the woman who had many husbands, and Jesus told her that she wasn't condemned and to "Go and sin no more." Imagine the peace that had to come over those women after their encounter with Jesus. To not be weighed down by guilt or rejection anymore. To have a totally new slate! What a relief!
Now I'm not Jesus, and I'm not one to bring wholeness to someone just by saying a couple words to them. But I know a guy who can. Maybe today when we meet someone who doesn't seem to be completely whole, we can introduce them to the "wholeness"-maker Jesus Christ. Maybe, just maybe, that's a little part of what Jesus had in mind when he said, "Blessed are the peacemakers."